The Nowa Nowa Iron Project (Five Mile Deposit) is located approximately 7km north of the township of Nowa Nowa, Victoria. It is some 320km by road east of Melbourne, and approximately 234km by road west of the Port of Eden.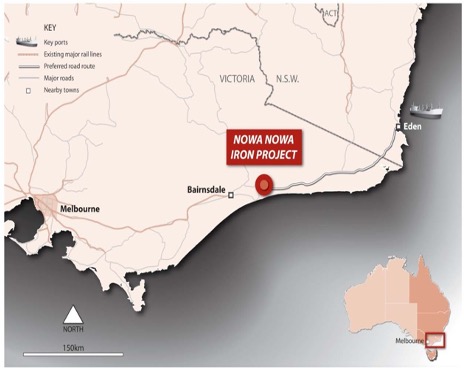 Figure  – Project Location
Magnetite iron deposits at Nowa Nowa were drilled in 1955 by the Victorian Mines Department as a follow up to regional magnetic surveys. Most drilling was centred on the largest of the magnetic targets, the Five Mile Deposit. Massive magnetite with lesser hematite occurs at 30-50m depth below tertiary sand and Devonian volcanic rocks. These deposits appear to have formed mantos 10-80m in thickness associated with lesser coarse pyrite within altered sediments and are possibly skarns related to a nearby but as yet unidentified intrusive. Other nearby magnetic targets including the Seven Mile, Six Mile and Three Mile deposits have received some exploratory drilling but not to the same extent as Five Mile.
The Mineral Resource at Five Mile has been estimated by H&SC (consulting company providing geological services) in accordance with the JORC Code, a professional code of conduct that sets minimum standards for mineral resource estimation.
H&SC report a JORC compliant mineral resource of 9.05 Mt with an average iron content of 50.8%Fe. This estimate assumes a commercially minable lower cut-off of 40% iron.
Prospect
Measured
Indicated
Inferred
Total
 
Mt
Fe %
Mt
Fe %
Mt
Fe %
Mt
Fe %
Five Mile
2.25
52.8
4.32
50.4
2.49
49.7
9.05
50.8
Table  – Five Mile Estimated Resources (cut off of 40% Fe)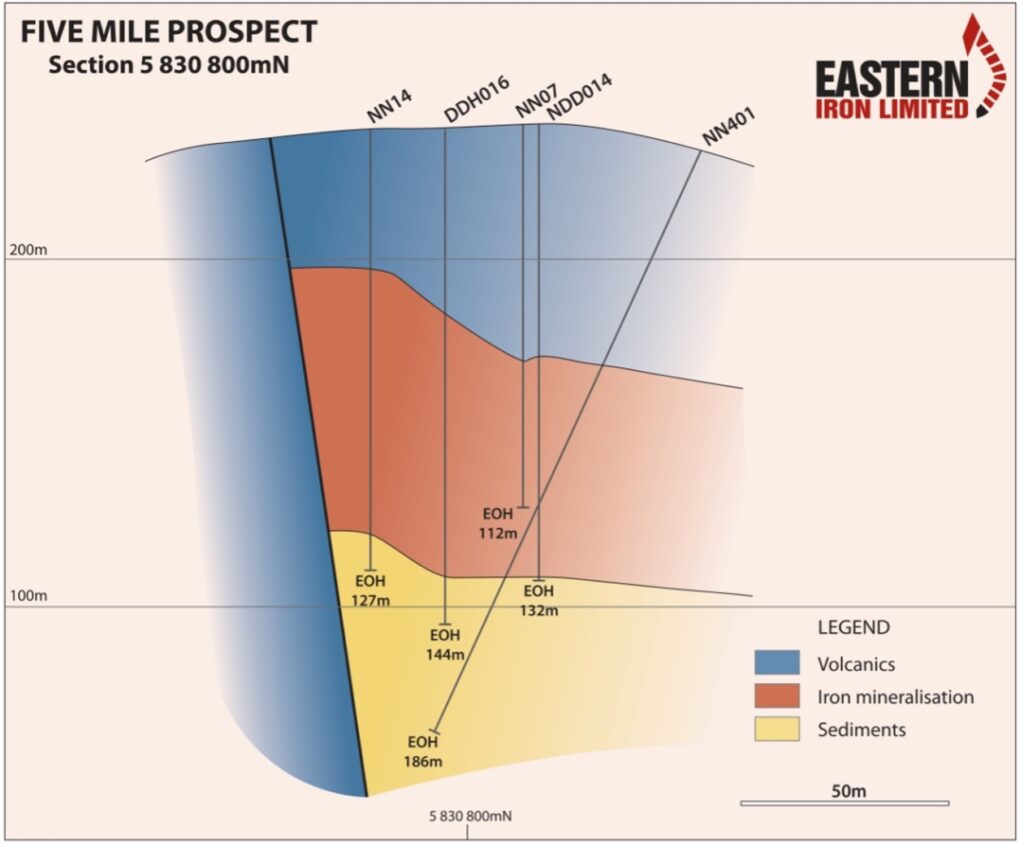 Figure  – Five Mile Prospect Drill Section 5830800N
The Company plans to produce magnetite DSO at a 1.0 million tonnes per annum over a minimum five-year LOM (total approximately 4.65 million tonnes), with the opportunity to expand production once existing inferred resources at Five Mile deposit is upgraded to measured and/or indicated resources.
An open cut mine is proposed. Ore will be crushed and screened to produce DSO lump product, with estimated average product grade of 51.75% over the LOM.
The magnetite DSO product will be trucked from mine to the Port of Eden predominantly by sealed road, where it will be stockpiled prior to being loaded directly into Panamax ship vessels for export to customers.